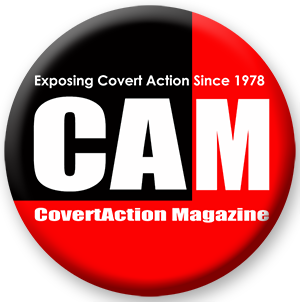 Chris Agee
Executive Editor
Jeremy Kuzmarov
Managing Editor
UK Home secretary Priti Patel has approved the extradition of Wikileaks founder Julian Assange to the United States. Assange faces up to 175 years in prison in the United States if convicted of violating the Espionage Act for publishing classified documents exposing U.S. war crimes in Iraq and Afghanistan. Wikileaks...
CAIB-30 (1988:2) From the Archives: Special Back Issue on Israel the Middle East: Israeli State Terror, Arms sales, Occupation, Chemical & nuclear warfare, Israel in Africa & Central America, Disinformation & Libya, CIA's William Buckley, Afghan contra lobby
"A Good American" is a gripping docu-thriller about a groundbreaking surveillance program, the brilliant mastermind behind it and how an alternative to mass surveillance—one which excluded U.S. citizens—was killed by NSA-management, three weeks prior to 9/11.
National Bird follows the dramatic journey of three whistleblowers who are determined to break the silence around one of the most controversial current affairs issues of our time: the secret U.S. drone war. At the center of the film are three U.S. military veterans. Plagued by guilt over participating in the killing of faceless people in foreign countries, they decide to speak out publicly, despite the possible consequences.
Part 4 of: WHO IS JOE BIDEN, REALLY? -- CAM exposes his 30-year history as a pawn of U.S.-Israel policy despite its ongoing violation of Palestinian rights and crimes against humanity....
Amidst a deadly global pandemic, rising threat of climate change, and nuclear war, The Bulletin of Atomic Scientists (The Bulletin) has set its 2021 clock at 100 seconds to midnight, the closest it has ever been to armaggedon. In a press conference on Wednesday, January 27th, Rachel Bronson, the director...
Over Museveni's 35 years of rule, U.S. Presidents from Reagan to Trump still love him as much as they loved his even more murderous predecessor, Idi Amin, and for the same corrupt reasons In March 1998, President Bill Clinton went to Africa, where he waxed lyrical about a "new generation"...
We, allied anti-imperialist organizations and individuals across the world, condemn the rightwing coup against indigenous president Evo Morales that forced him and other members of the Bolivian government to resign. This coup is being undertaken to inflict the worst kind of violence upon class-conscious, indigenous revolutionaries who, under...
The Revolutionary Government of the Republic of Cuba condemns the escalation of pressures and actions of the U.S. government in preparation for a military adventure under the guise of a "humanitarian intervention" in the Bolivarian Republic of Venezuela and calls on the international community to mobilize in order to...
From the archives: JFK is a 1991 political thriller directed by academy award-winning director Oliver Stone. It examines the events leading to the assassination of United States President John F. Kennedy and the alleged cover-up through the eyes of former New Orleans district attorney Jim Garrison, played by Kevin Costner.